Jeff Goldblum was on the set of Thor: Love and Thunder in Australia. The actor can reincarnate the Grandmaster.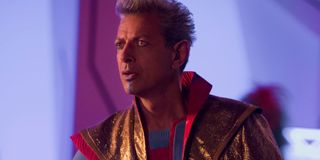 Goldblum was spotted on set alongside Chris Hemsworth and director Taika Waititi. He first tried on the image of the Grandmaster in Ragnarok. The character is one of the eternal Elders of the Universe and has the "original power" left after the Big Bang. 
The appearance of the Grandmaster is also planned for the animated series "What if? .." The fourth "Thor" is to be played by Christian Bale, Natalie Portman, and Tessa Thompson. The paparazzi were also able to capture Matt Damon and Melissa McCarthy on the set – most likely, the actors will get cameo roles. 
Source: GamesRadar